This program is meant to help high school students better understand American democracy and their unique role in it along with the importance of cultivating an entrepreneurial mindset. ILF will provide students with the skills, knowledge, inspiration, and confidence they need to become civically engaged citizens, entrepreneurial thinkers, and future leaders. After the week-long (June 26 – June 30th) intensive seminar, which includes various expert speakers and AANHPI leaders, students will complete and gain their Entrepreneurial Mindset Program certification through the Entrepreneurial Learning Initiative (July 3 – 31) along with weekly check-ins with ILF instructors and utilizing real life community involvement activities. The bridging between civic engagement and entrepreneurial learning will help high school students develop the skills they need to be successful in higher education, the future workplace, and as involved citizens in their communities. Through our program, we hope to inspire the future problem solvers of America!
The Youth Leadership Academy is intended for aspiring young leaders who are interested in a variety of fields, including public service, entrepreneurship, and business. The program is focused on developing civically engaged leaders who want to make a difference in the civic life of our communities.
Sample Topics:
Cultivating an Entrepreneurial Mindset
Entrepreneurs Meet Civic Engagement
Fireside Chat: A Conversation on Leadership
"This American President" Podcast
All required application materials must be submitted by Friday, March 31 at 5 P.M. ET
YLA 2023 Intensive Seminar (Virtual):
Monday, June 26th through Friday, June 30th 
Weekly Sessions on ELI program (Virtual):
 

July 3, July 10, July 17, July 24 
ILF 2023 Leadership & Business Conference/Gala: TBA
Closing Ceremony:
July 31st
If you have any questions, please reach out to us at ilf@ileader.org.
Demonstrated community service involvement and leadership
Current high school student (Rising High School Sophomores, Juniors & Seniors)
3.0 GPA and higher
Cost: $500 to participate. This cost includes any entrance fees, Entrepreneurial Mindset Program, and other programming fees for the summer. The  Entrepreneurial Mindset certificates are provided upon successful completion of the program. Scholarships are available based on financial need. Please review the scholarship section of the application.
Meagan Lee
My experience in the 2021 Youth Leadership Academy fostered my professional interests and encouraged me to pursue civic engagement. It allowed me to learn that civic engagement takes service, knowledge, teamwork, and a desire to make a change in our respective communities. As a result of acquiring valuable leadership skills, I have applied them to my internship under the Secretary of the Commonwealth of Massachusetts, working in the Tours and Government Education Division and as a Policy Intern under Massachusetts State Representative Adam Scanlon. Aside from these experiences, ILF has allowed me to meet the pioneers of our nation and economy. ILF cultivated my love of public service and will continue to change the lives of aspiring world leaders as it changed mine.

Hudson Yang
To me, the experience I had with YLA is definitely one of the most impactful I've had in my life. I heard from so many wise and intelligent people, and learned so much about developing an entrepreneurial mindset and leadership. What I learned while participating in the YLA program will forever change how I view failure, success, and taking charge. By the time the program was over, I felt more motivated than I had ever felt before. So, to any kid who's maybe on the fence about it, do it. It's worth it.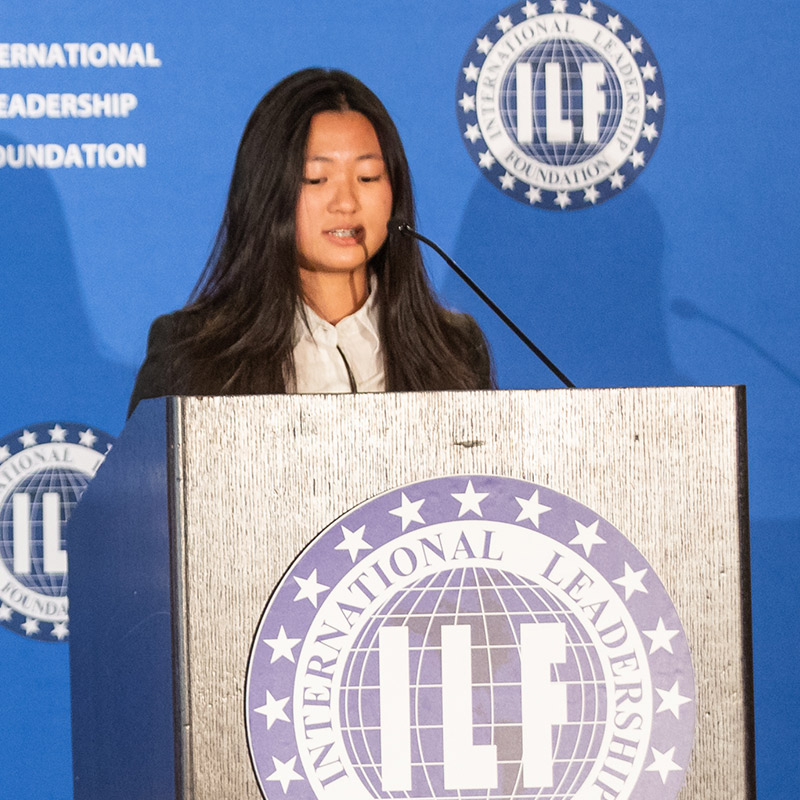 Ashley Lo
Being a member of the 2022 ILF Youth Leadership Academy (YLA) led me to realize not only the need for more Asian-American representation in our government but also the importance of becoming community-oriented and socially responsible. I would have never imagined the opportunity to learn what it means to be a leader (and how to be one) from listening to such esteemed individuals speak to our class of '22. I was then able to embark on my own summer impact project in which I chose to research and work on the West Coast's affordable housing crisis as an intern at the Henry George School of Social Science. I have continued to work hard and have kept the lessons learned from the YLA close as I pursue my goals. I am extremely grateful to the ILF for a new outlook and the avenues of opportunities that it has led me to.